PREVENT THEFT – SECURE YOUR RIDE
Connected Bike Alarm & Anti Theft Monitoring
12 Months Free Data Included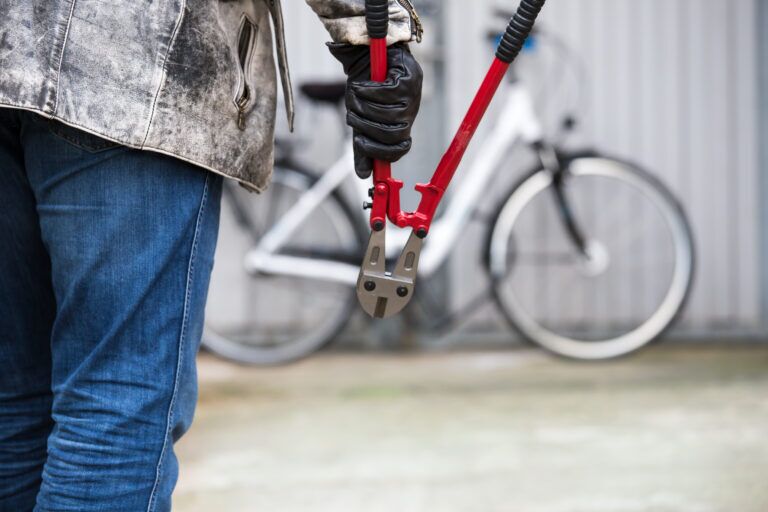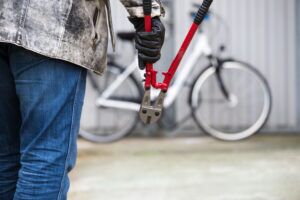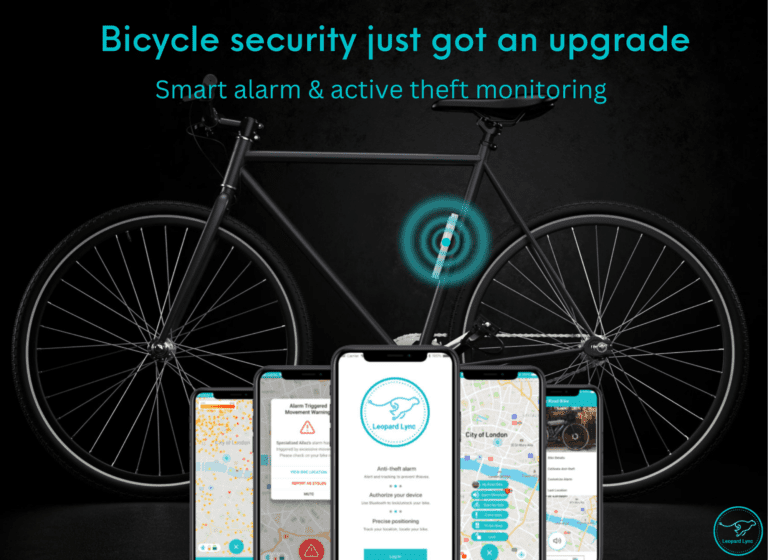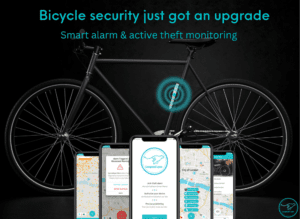 ADVANCED THEFT PREVENTION
Created by cyclists & bicycle manufacturers to help prevent bicycle theft.
The Leopard Lync is a smart security system designed to fit all types of bicycles. Providing real time theft monitoring, movement detection & anti theft alarm.
An added layer of protection for your bike & extra peace of mind for you.


INSTANT MOVEMENT ALERTS & THEFT MAPPING – ANYTIME, ANYWHERE
App Features
Instant push notifications if movement detected
Cancel alarm directly from the app
Create your bike passport including photo, specs & serial number
Activate Lync with a single tap
Set up wireless auto lock – your phone is your key
Create a geofence lock around your bike
View your bikes location anytime, anywhere
See recent bike theft locations & crime hot spots
Use across multiple bikes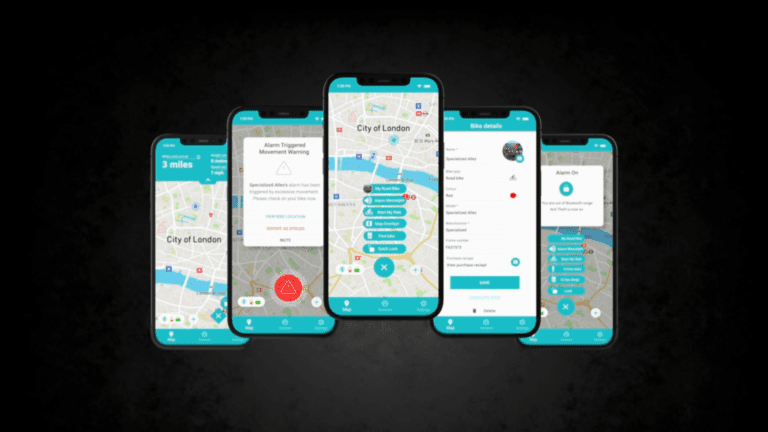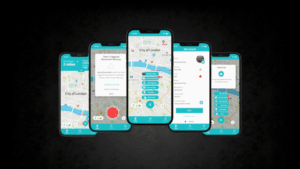 SPECIFICATIONS
Dimensions: 23mm x 168mm x 36mm
Weight: 97g
Connectivity: eSim – 4G & 2G
Tracking: GPS (GNSS)
Communication: Wireless Low Energy
Alarm: Up to 109 dB
Sensors: 6 axis gyro & accelerometer
Charging: USB Type C – Cable included
Battery life: Up to 4 weeks normal use / 4 months standby
Battery type: Lithium polymer
Weatherproof: IP67
Flight safety: Airplane mode
Fitting: 2x security hex bolts – Included
How The Lync Compares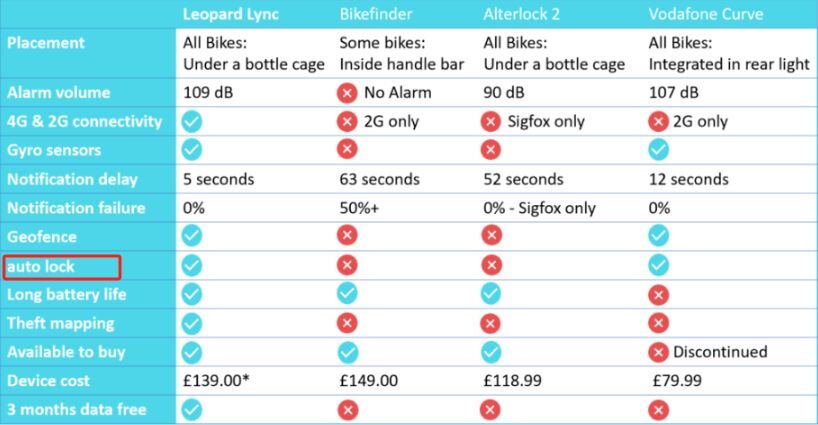 FAQ
How long does the battery last?
Under normal riding conditions the battery will last up to 4 weeks. The device will let you know when the battery needs charging and you simply plug it in either to mains or a powerbank for 3 hours to fully charge.
No – the device comes with its own build in eSim allowing you to use the device across the UK and Europe
What types of bikes can the Lync be fitted too?
Any and all types of bicycle – from traditional to electric, road to gravel. If your bike has room for a bottle cage then you will be able to fit the Leopard Lync.
The best placement for the Lync is under where you would normally fit your bottle cage, and attach with security hex bolts – which are included. You can then attach your own bottle cage as normal over the Lync.
What are the dimensions and weight of the Lync?
The Lync measures 166mm in length, 32mm in width and 23mm thickness. The compete hardware module weights just 97g.
Are we able to track these anytime, anyplace, however far away?
Yes – Unlike a tracker like tile or airtag where you need to rely on other people's devices and be close to it to find whatever you're tracking… the Lync was created with connectivity as a key feature and we use both GPS and 4G/2G cellular networks via an integrated eSim so you can track your device (bike) from anywhere in the world where you get signal.
In what countries can the Lync be used?
The Lync supports 4G network in the UK and across Europe as well, without extra roaming charge. All mapping (real-time GPS and find my bike) will work anywhere in the EU and UK. The only exception at the moment is the data we use for the bike theft report. Currently this is provided by UK police and so bike theft map feature is available in the UK for now. However we activity working with the EU authorities to collect more theft data and will be extending the theft mapping to cover the EU very soon. This will be done by way of a remote firmware update to the device and we will notify all users when this is ready to do.
Get peace of mind when leaving your bike. Any movement will trigger the Lync 109 dB alarm and send an instant movement notification to you via the app.
The Lync will last up to 1 week in constant / high use and up to 4 weeks in normal use. Notifications will let you know when the battery is getting low and a full charge only takes 1 hour.
Forget about keys or remembering to activate the Lync. With our Wireless auto lock, your phone is the key. When out of range the Lync will automatically activate securing your bike and then deactivate when you come back into range.
12 months free data included.