ADO's mission is provide people with an extraordinary riding experience during daily commuting on their electric bikes. They have a vision to create a cycling community of love and growth whilst releasing each individual's full life potential. They are committed to improving commuter experiences by producing ebikes with great riding experiences.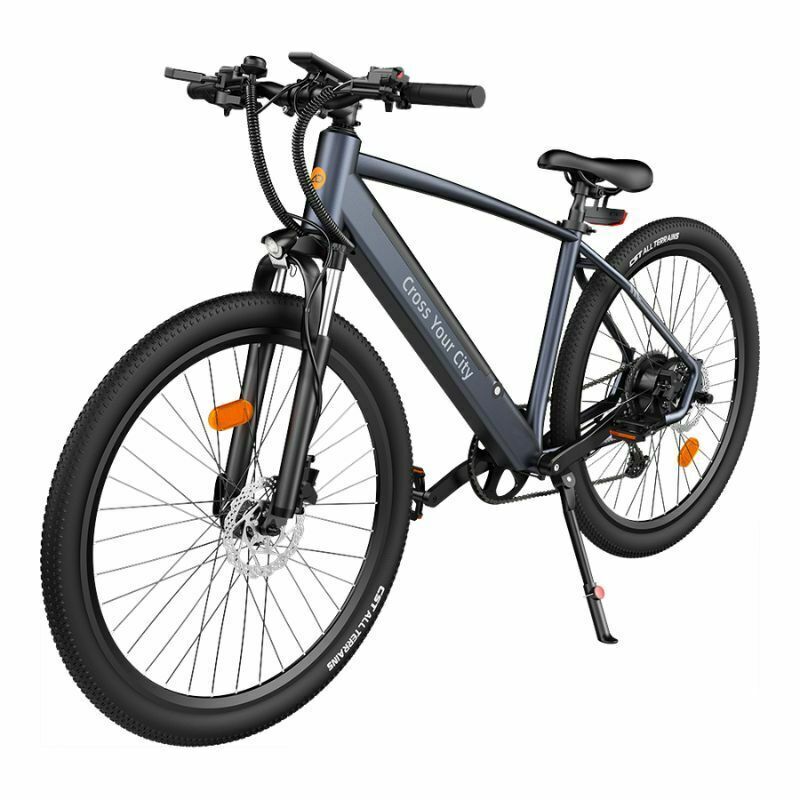 Contribute To Sustainability
Electric bikes are great for short commutes to work or running errands. Most often you will get to your destination quicker by avoiding traffic and at the same time cutting down on carbon emissions and pollution.
Easier To Ride
Allow yourself a smoother ride and reduce stress on muscles and joints. Pedal assist will help you on steep inclines or rough terrain making the journey easier and more enjoyable.
Improved Physical And Mental Health
Cycling on an E-bike is more accessible and people are more likely to do it because it's easier, getting about the same workout with less the effort. For those who live a more sedentary life, an e-bike gets them moving and out in nature. The change in scenery, and fresh air helps reduce stress, improve mood, provides for a more restful sleep and increases productivity.
The Fun Factor
Getting to your destination a little quicker, feeling the wind against your face, contributing to the environment and generally feeling healthier, there is definitely an element of fun riding an E-Bike
How To Choose An Electric Bike
Electric bikes are becoming more and more popular not only for cyclists but also for leisure seekers, commuters and delivery services. With so many options available and different types of electric bikes on the market the question is, which bike is right for you? Consider some of the pointers below before buying your E-Bike.
Style
Firstly you need to consider what style of bike you are looking for. Types of E-Bikes range from Step Through bikes with a classic design, crossbar versions, mountain bikes or the ever more popular folding bikes. Then there are other considerations like hybrids which can be used on or off road. Wheel size can also be an important factor with a smoother ride on a larger sized wheel. Generally a 26" or 24" wheel will be better for off-road than a 28" wheeled bike which would be better on the road depending on the width and tread of the tyre. The step through bikes are easier to mount and better for road use where an Electric Mountain bike (E-MTB's) is perfect for more challenging terrain off the road or trailing. Folding E-Bikes have the obvious advantage of saving space when storing or transporting.


Distance

Depending on the terrain, riders weight and weather related conditions, the ampere rating (AH) or watt hour rating (WH) will determine the distance your new E-bike can travel on a charge. Below is a list of approximate distances you can get on the various batteries sizes:
10AH or 375WH Battery will give an approx. distance of 27-35 miles
16AH battery will give an approx. distance of 60 – 70 Miles
Legalities And Power

In the UK the legal limits for E-Bikes being used on the road are 15.5mph and the motors must be limited to 250w. The battery voltage is an important consideration so if you need a powerful hill climber a 36v battery and a 250w motor would be recommended.
Size Guide

Choosing the size of your new electric bike depends on various factors including your height, inside leg measurement and riding style, however almost any size bike can be configured to give you the most efficient and comfortable ride. Below is some guidance on choosing your bike.
Height Inside Leg E-bike Size
147cm-152cm / 4'10"-5'0" 66cm / 26" 47, 48cm (XX Small)
152cm-160cm / 5'0"-5'3" 69cm / 27" 49, 50cm (X Small)
160cm-170cm / 5'3"-5'7" 71cm / 28" 51, 52, 53cm (Small)
170cm-175cm / 5'7"-5'9" 76cm / 30" 54, 55cm (Medium) )
175cm-180cm / 5'9"-5'11" 79cm / 31" 56, 57, 58cm (Large)
180cm-188cm / 5'11"-6'2" 81cm / 32" 59, 60cm (X Large)
188cm-196cm / 6'2"-6'5" 86cm / 34" 60, 61, 62cm (X Large, XX Large)
196cm+ / 6' 5"+ 91cm / 36" 62, 63cm (XX Large)
Drive Systems

There are two main drive systems with electric bikes, either central crank drive or hub drive systems.
A crank driven motor is located in the middle of the bike frame and propels the bike through the chain with the use of the rear wheel gears. This is a highly efficient system because it can increase its own torque and allows the bike to climb up very steep hills. These crank driven bikes are known as pedelec bikes meaning it will only work when the rider is pedalling by rotating the cranks. Being equipped with a torque sensor, they are more intuitive than hub driven motors because they recognizes when the rider is putting effort on the cranks. The more the rider puts effort on the crank, the more power is supplied by the motor and the faster the bike goes. There are various Crank drive systems available and the ones to look out for are Bosch, Yamaha, Shimano and Panasonic.

With a hub driven systems the motor is located in the hub which propels the wheel independently from the bike chain or cassette. Hub motor systems can be driven either by pedal assist mode or via throttle control. Many models offer a selection of different levels of pedal assist modes and the power will come in based on the level set whilst pedalling. Throttle mode is a twist and go or thumb throttle which does not require the rider to pedal. This system is great for riders who do not want to worry about the need for exertion. Hub driven E-bikes are a more effortless means of cycling an electric bike.
How Will My Bike Be Delivered
Once you have placed your order we will be in communication with you about delivery which will take place in one of two ways.
Depending on the delivery address, we will plan for the bike to be assembled, tested and delivered to you at a mutually convenient time by a qualified E-Bike technician.
If we are not able to arrange for this type of delivery, the bike will be assembled, tested, and sent by courier to your delivery address. Once delivered, all you will need to do is straighten and tighten the handlebars as well as screw the pedals in.
What If There Is A Problem With My Bike
Please see the Description tab for the exact warranty on each model. Because your bike is 90% built and tested before delivery, with only the handlebars needing to be tightened and pedals screwed in, the chances of receiving a faulty bike are vastly reduced. At CoAct Life we pride ourselves on offering high levels of customer service so if you have any problems or issues please get in touch and we will be more than happy to assist.
Keep your bike clean, the drivetrain well lubricated and the tyres properly inflated
Regularly check for loose bolts, spokes and broken parts
Keep the battery partially charged and store it in a cool, dry place
Avoid storing the bike with a flat battery
Charge the battery only with the correct charger
Check regularly for software updates
Visit a dealership if there is a fault. Never try to take apart, or fix the motor or battery yourself
Charge an e-bike n a dry location at room temperature. Regularly charge the battery when not using your e-bike for prolonged periods of time and clean the battery with a damp cloth. Remove the battery before cleaning your bike.